FLEX (Flexible) Stainless Steel Hoses and Hose Fittings | What are they? What are they used for?
WHAT ARE THE FLEX (FLEXIBLE) CORRUGATED STAINLESS STEEL HOSES AND HOSE FITTINGS USED FOR?
Flex (flexible) stainless hoses have been serving us in miscellaneous areas such as combis and cookers in our houses, meters at the entrances of our flats, fountains, armatures and decorative indoor gas installations, which is getting popular day by day. In other words, they keep their distance but in reality, are very close to our lives and safety, for decades, thanks to its ease of installation and use, and long-lifetime against the corrosion.
Apart from these, flex hose (pipe) are used for general water installations, solar systems, boilers, and fan coil systems, Thanks to its flexible and corrosion resistant structure, they are preferred for all of the systems where difficult & time consuming adjustments vibration and corrosion are desired to be eliminated, and easy & fast installation is needed.
The main fluids flowing through them are natural gas and hot/cold water.
Stainless flex hoses (ss flex hose) are manufactured from special stainless sheet strips having the content stated in TSE and EN ISO European standards. Several material types are referred to in the relevant standards. So in order to explain the issue simpler, we will mention only the common types, known as 304/304L, 316/316L
The stainless hoses have a melting point of approximately 1400-1450 degrees Celsius (⁰C). Therefore, they are very resistant against a possible fire.
The outer coatings (tube) have no fire-preventive specification. The coating is expected to protect the hose against cleaning chemicals and not to pose any breathing hazard by releasing the hazardous chemicals it contains.
CE 14800 Gas Flex Group: https://kas.com.tr/en/prod-category/stainless-steel-flexible-hoses/ce-14800-gas-flex-group/
They must be subjected to all type of tests such as mechanical, chemical, thermal, etc. stated in the standard(s) depending on the intended use of finished products.
If the area of usage is not limited to a specific standard, the customer can request to put the product to test in conformity with TS EN 10380 flex hose general standard or any kind of special test.
The manufacturers become entitled to receive certificates from relevant institutions for the products which pass these tests successfully.
We strongly recommend the users to pay attention to these certifications with priority.
Note: In this document, we will be addressing the products as "hose" and "flexible hose assembly". "Hose" is used for the ones without any welded fittings.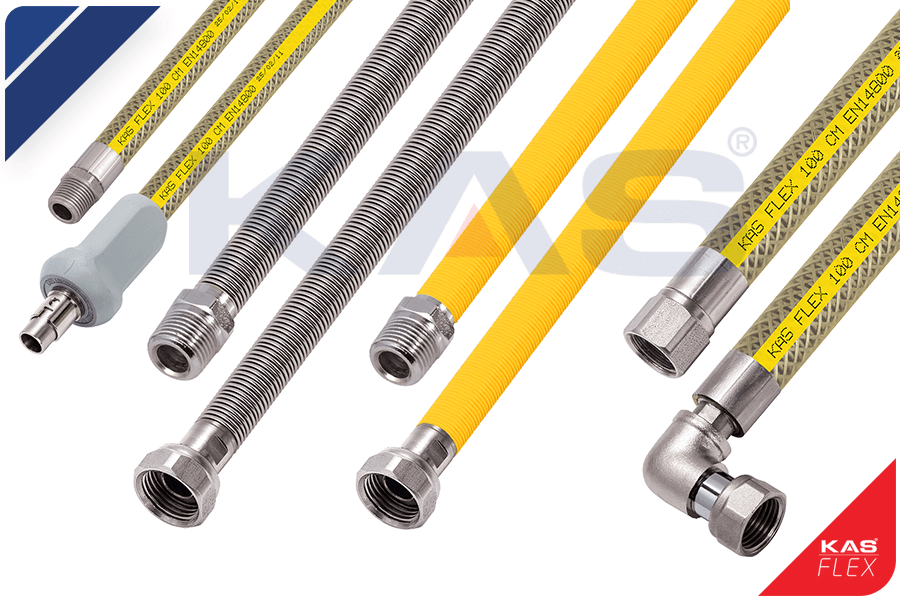 MANUFACTURING STAGES OF FLEX HOSE
Flex Hose begins its manufacturing journey as "stainless sheet strip" which is manufactured very precisely regarding its chemical content, cutting & surface quality, smoothness, thickness, etc.
Then, it is welded on a production line uninterruptedly with any method such as TIG, Laser, Plasma, etc. and it turns into a pipe. Afterwards, it becomes a flexible hose on the same line, with its corrugations on it, via hydraulic or mechanical forming. Right after this, it is subjected to a leakage test.
If it is going to be dispatched immediately after coiling and packing, then the "hose" becomes a product, e.g. solar flex hoses. On the other hand, if it is going to be delivered as a " flexible hose assembly" it must pass through at least one of the stations mentioned below. During these processes, the semi-finished products are subjected to one or several leakage tests. In other words, each product will have been tested at least 2 times in total without any exceptions.
1- Welding the end pieces (fittings) such as nipple, coupling/sleeve (usage with union nut
– All kinds of flexible hose assemblies
2- Stainless steel wire braiding
– 14800 cooker flex
3- Annealing (For easy bending and for 100 % extensibility)
– 15266 Indoor gas flex
– 11353 Extensible flex
4- Tube (insulation) coating with transparent and opaque PVC, polyolefin/polyethylene, pvc+polyethylene foam materials
– 14800 Flex for Cooker Connection (Transparent PVC)
– 15266 Indoor Gas Flex (Opaque PVC)
– 10670 Flex for Combi Connection (Polyethylene/Polyolefin)
– 10878 Meter Connection Flex (Polyethylene/Polyolefin)
– 11353 Extensible Flex (Polyethylene/Polyolefin))
– Solar Flex (PVC+Polyethylene foam)
5- Closing
– 11353 Extensible Flex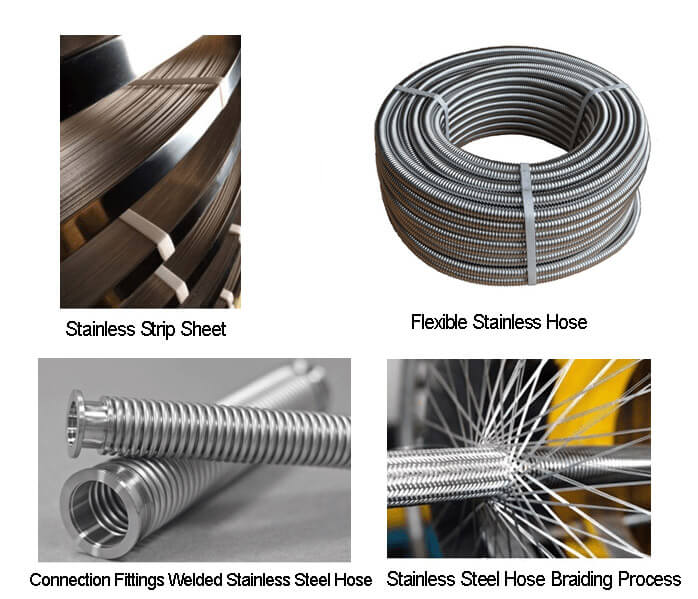 TECHNICAL SPECIFICATIONS and VARIETIES OF FLEX (FLEXIBLE) HOSE
A. MATERIAL QUALITY – CHEMICAL CONTENT
Under the previous title, we stated that the word of "quality" does not have the same meaning with "qualified" as we use in daily life and it is rather related to the elements contained in the metal itself. In other words, it refers to material types which come into existence when the elements such as chromium, nickel, molybdenum, etc. in the raw material are available in varying ratios.
The flexible hoses are manufactured from stainless steel sheet strip. In order to call a metal "stainless steel", it should contain at least 10.5% of chromium in it (by weight)
The stainless steels (Wikipedia: stainless steel ) are the steels which are very resistant to formation of red colored rust (ferrous oxide) that we know in general terms. However, many types of stainless steels will still corrode when they are exposed to chemically aggressive situations. In other words, it is very important for the user to select the material in conformity with the intended use or to give the necessary information to manufacturer before ordering and thus, to steer the manufacturer in the right way.
As we stated in the introduction part, we can classify the qualities of sheets used for hose production under 2 main common groups. 304 / 304L and 316 / 316L.
** 304 / 304L – contain 8-12% nickel and 17.5-2% chromium. They can be used in the fluids such as water, gas, etc. except for aggressive environments such as saline water, excessively humid environment, etc.
** 316 / 316 L – contain 10-13% nickel, 16.5-18.5% chromium and 2-2.5% molybdenum. They can be even used under aggressive conditions such as saline water, etc. and they show a very high resistant performance against corrosion thanks to molybdenum it contains.
* * The letter of "L" at the end refers to low carbon ratio. The low carbon ratio prevents the corrosions (sensitization corrosion) which may occur in the molecular structure at the time of both welding and annealing processes.
While the carbon ratio is maximum 0.08% at normal qualities, this ratio is maximum 0.03% for low carbon ratios.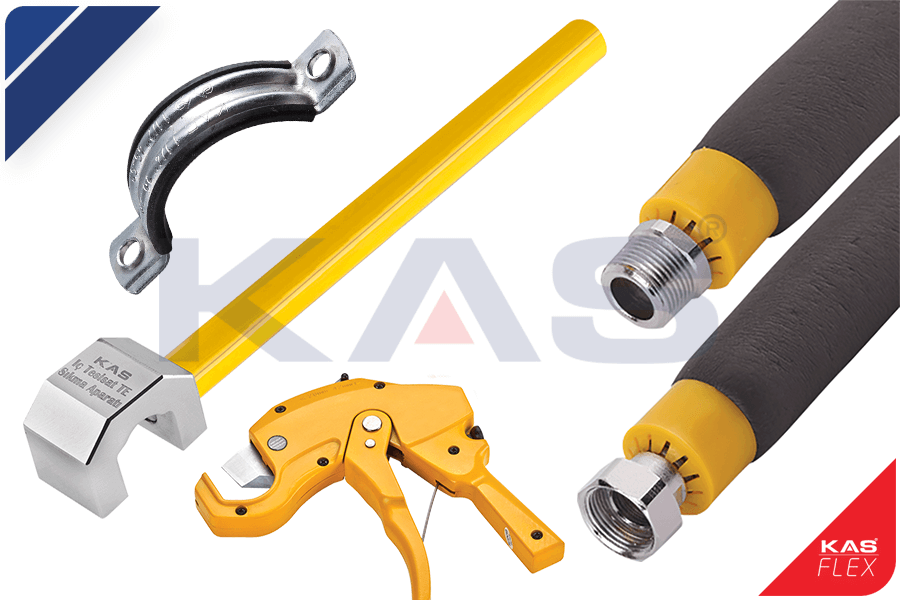 B. WAVE (CORRUGATION) SECTION TYPE
There are 2 main section types such as annular and helical. The corrugations are perpendicular to hose axis in the annular type which makes it easier to install and safer to use.
Moreover, the annular type hoses don't give a rise to torsional forces in case of high pressure or pressure shocks and thus, they are more resistant compared to helical hoses.
Today, the annular hoses are preferred because of these superior technical properties.

C. WAVE (CORRUGATION) TYPE
Stainless Flexible Hoses (ss flex hose) can be categorized into 3 main pitch types in conformity with their intended uses: Wide, Standard and Closed (Compressed). The number of corrugations on the hose increases so the waves become frequent as we go from wide to compressed pitch.
The compressive strengths of node types and its impacts on flexibility are given in the table below.
| | | |
| --- | --- | --- |
| TYPE | PRESSURE RATING | FLEXIBILITY |
| CLOSED (COMPRESSED) | + | + + + + |
| STANDARD | + + | + + + |
| WIDE | + + + | + + |
As shown in the Table, the flexibility increases but the compressive strength decreases as the number of nodes increases.
(Compressed Pitch, Standard Pitch, Wide Pitch)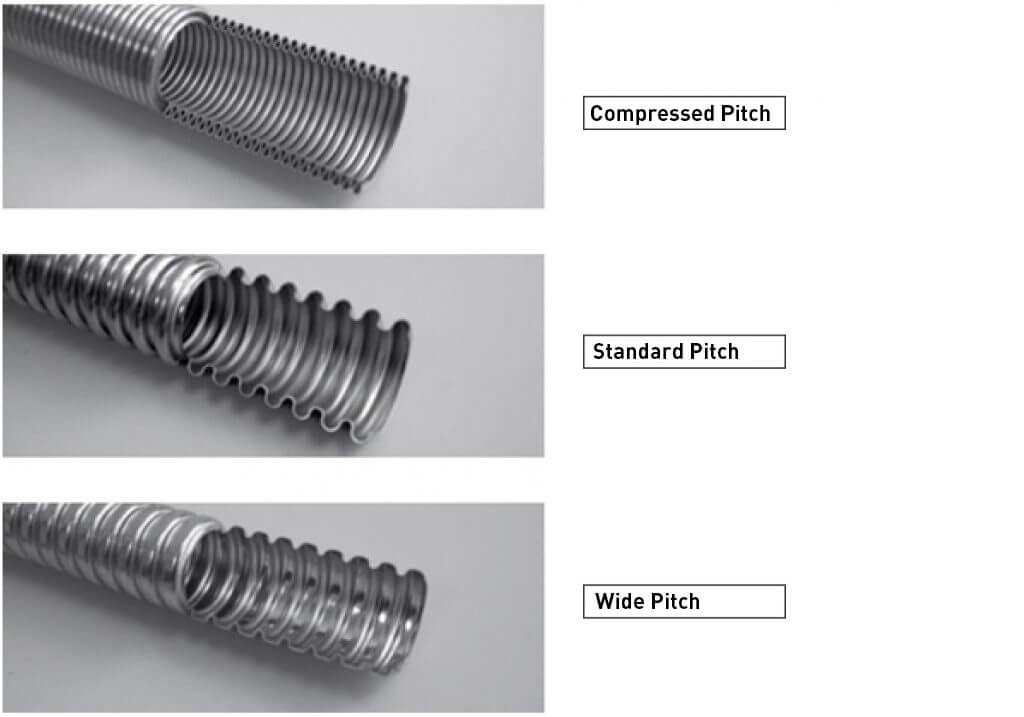 D. HOSE FITTINGS
The end pieces of flexible hose fittings such as nipple, coupling/sleeve (usage with union nut), nut, etc. can be manufactured from materials such as stainless steel, carbon steel, chrome coated, brass, chrome coated brass, etc. in conformity with TS EN standards as desired or stipulated by the standard. In the nonstandard application, the right material selection by user/manufacturer is important such as in the hose.
E. COATING (CASING) TYPES – INTENDED USES AND BENEFITS
The coating can be made on the stainless hose in conformity with intended uses stated in the relevant standards or special demands.
In general, this coating is known as "tube" on the market.
The stainless flex hoses have a melting point of approximately 1400-1450 degree (C). Therefore, they are very resistant against a possible fire. The outer coatings (tube) have no fire-retardant specification. The casing is expected to protect the hose against cleaning chemicals and not to give a rise to a breathing hazard by releasing the hazardous chemicals that it contains.
Tube Casing (Coating) Types
1- Transparent PVC: It is used for 14800 Cooker Connection and Water Flex. The main aim is to prevent the damage of hoses and end pieces by aggressive chemicals which may be used for house cleaning. Apart from this, it fulfills the functions such as easy cleaning, decorative appearance and sound and vibration reducing from water flexes and it makes extra contribution to flexibility.
2- Opaque PVC: It is used for 15266 indoor gas flexes. It protects the hose against aggressive chemicals and external impacts. It ensures easy cleaning and decorative appearance.
3- Polyethylene /Polyolefin: It has a soft and resistant structure. Thanks to its soft structure, it is used for all products where extra vacuumed coating is desired (Combi Flex, Extensible Flexes, Meter Flexes, etc.)
4- PVC + Polyurethane Foam: This type of coating which is produced with composite PVC on polyurethane foam, is preferred for solar system hoses thanks to its high resistance against though natural conditions such as high heat, rain, snow, mud, etc. and it has a very well heat (thermal) insulation capability. It also has integrated sensor cable.
5- Polyurethane foam: It can be used in water and fancoil flexes with the aim of water insulation.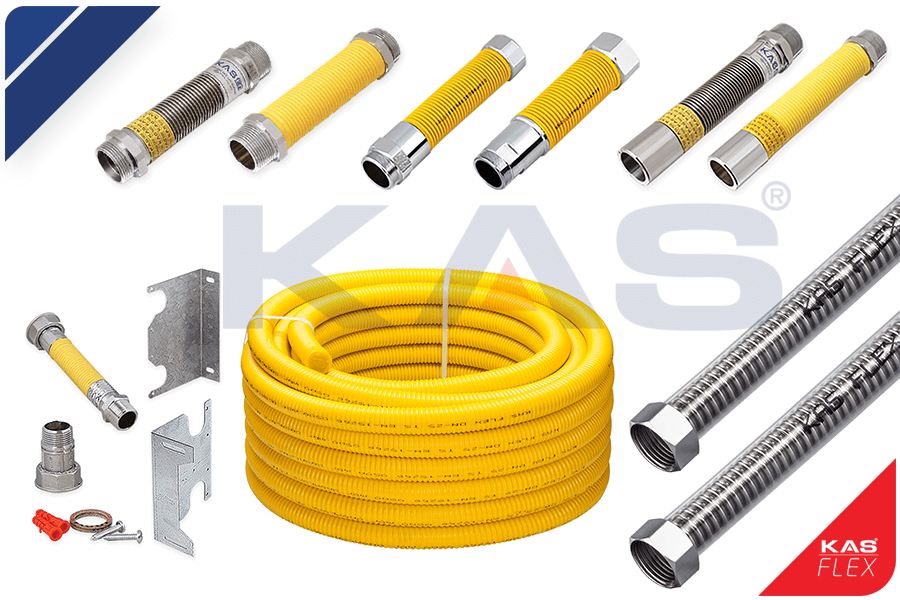 INTENDED USES AND DISTINCTIVE SPECIFICATIONS OF FLEXIBLE HOSE FITTINGS
Under this title, we will give the standards and distinctive specifications of pipe fittings within the scope of TS EN standards in the tables below.
TS EN 14800 –FLEX FOR COOKER CONNECTION
| | |
| --- | --- |
| DESCRIPTION OF SPECIFICATION | REMARK |
| TYPE OF PIPE NODE | CLOSED (COMPRESSED) |
| STAINLESS WIRE MESH | AVAILABLE |
| ANNEALING | N/A |
| END PIECES | STAINLESS |
| OUTER COATING | TRANSPARENT PVC TUBE |
TS EN 10670 – FLEXES FOR COMBI CONNECTIONS
| | |
| --- | --- |
| DESCRIPTION OF SPECIFICATION | REMARK |
| TYPE OF PIPE NODE | STANDARD |
| STAINLESS WIRE MESH | N/A |
| ANNEALING | N/A |
| END PIECES | CHROMIUM IRON |
| OUTER COATING | POLYETHYLENE/POLYOLEFIN TUBE (EXTRA VACUUMED) OR BARE |
TS EN 10878 – FLEXES FOR METER CONNECTION
| | |
| --- | --- |
| DESCRIPTION OF SPECIFICATION | REMARK |
| TYPE OF PIPE NODE | STANDARD |
| STAINLESS WIRE MESH | N/A |
| ANNEALING | N/A |
| END PIECES | CHROMIUM IRON |
| OUTER COATING | POLYETHYLENE/POLYOLEFIN TUBE (EXTRA VACUUMED) OR BARE |
TS EN 15266 –INDOOR GAS FLEXES
| | |
| --- | --- |
| DESCRIPTION OF SPECIFICATION | REMARK |
| TYPE OF PIPE NODE | OPEN |
| STAINLESS WIRE MESH | N/A |
| ANNEALING | AVAILABLE |
| END PIECES | BRASS |
| OUTER COATING | OPAQUE PVC TUBE |
UNI 11353 – EXTENSIBLE FLEXES ( FOR NONSTANDARD OPTIONAL USE FOLLOWING "/")
| | |
| --- | --- |
| DESCRIPTION OF SPECIFICATION | REMARK |
| TYPE OF PIPE NODE | EXTRA CLOSED (EXTRA COMPRESSED) |
| STAINLESS WIRE MESH | N/A |
| ANNEALING | AVAILABLE |
| END PIECES | STAINLESS/CHROMIUM IRON |
| OUTER COATING | POLYETHYLENE/POLYOLEFIN TUBE (EXTRA VACUUMED) OR BARE |
BOILER FLEXES
| | |
| --- | --- |
| DESCRIPTION OF SPECIFICATION | REMARK |
| TYPE OF PIPE NODE | UPON DEMAND |
| STAINLESS WIRE MESH | N/A |
| ANNEALING | N/A |
| END PIECES | UPON DEMAND |
| OUTER COATING | POLYETHYLENE/POLYOLEFIN TUBE (EXTRA VACUUMED) OR BARE |
SOLAR FLEXES
| | |
| --- | --- |
| DESCRIPTION OF SPECIFICATION | REMARK |
| TYPE OF PIPE NODE | OPEN/UPON DEMAND |
| STAINLESS WIRE MESH | N/A |
| ANNEALING | N/A |
| END PIECES | N/A |
| OUTER COATING | CABLE-LAID/CORDLESS/SPECIAL INSULATED |
FANCOIL / WATER FLEXES
| | |
| --- | --- |
| DESCRIPTION OF SPECIFICATION | REMARK |
| TYPE OF PIPE NODE | OPEN/STANDARD/UPON DEMAND |
| STAINLESS WIRE MESH | N/A |
| ANNEALING | N/A |
| END PIECES | STAINLESS / CHROMIUM IRON / BRASS |
| OUTER COATING | UPON DEMAND |